Interview with Danny Higginbotham by @Footy_Tipster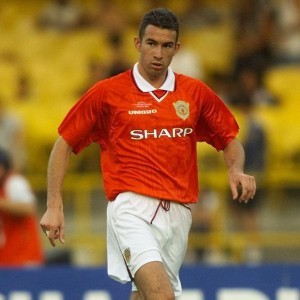 We gave our followers an opportunity to ask ex Manchester United, Stoke City, Derby County and Southampton defender Danny Higginbotham a question of their choice, we picked the best questions & asked Danny: 
@MattSCFC Asked:
What do you think Stoke need to push on to the next level? 
Danny:
Will be difficult for stoke to get to the next level without spending big. One thing they do need to try and create, is some consistency and also how to deal with teams at home. Stoke are much more of away team now because of their great counter attacking style away from home but when playing at home and the opposition plays deep there needs to be a different plan to stop the frustration setting in.
@DWaltonOfficial Asked:
What is your fondest memory of playing for Derby County? 
Danny:
Playing for derby was great and a fantastic family club and great fans to. Fondest memory no question was going to old Trafford second to last game of the season in 2001 and winning 1 0 which kept us up. Was very much backs to the wall but after a hard season what an amazing feeling it was to be in the dressing room after the game having beaten the champions and staying up in the process.
@Ogonus_chris Asked:
Between Man United and Southampton, Who do you think will finish higher in the league this season?
Danny:
I think Manchester United will finish higher by the end of the season. Southampton have had an outstanding start but if any of their key 3 get injured then it will be difficult where as I think Manchester United will get stronger as the season goes on.
@Footy_Tipster Asked:
Who is the best player you have played with and the best player you have played against?
Danny:
Best player I've played with is a tough one. The treble winning team at Manchester United where I  was fortunate enough to play a few games with them players was very special. The likes of Keane, Giggs, Beckham, Scholes, Staam the list goes on. After leaving United the likes of Kinkladze, Ravanelli, Le saux were great players. Toughest opponent is another tough one. There have been so many great   players that I have played against Ronaldo, Van Nistelrooy, Henry, Shearer, Rooney and Van Persie but I  would go for Raul. It was a pre season friendly against Madrid and I can honestly as a defender I have never played against a player that had the movement he did. He was unbelievable.
@Winny_FTM Asked:
What's your favourite memory of playing at Sunderland?
Danny:
No question scoring in the derby v Newcastle. What an amazing feeling that was and what a great  atmosphere at the ground as well. Was fortunate enough to of scored in the other derby against Middlesbrough as well that season.

@James1888_ Asked:
Which team do you prefer, Celtic or Rangers? 
Danny:
Always been Celtic for me from a young kid especially when I used to go to some of the testimonials at Old Trafford when they used to come and play. Both huge clubs and hopefully  Rangers get back up to the top league sooner rather than later.
@Footy_Fooligans Asked:
Was punditry always something you wanted to do when you retired? 
Danny:
Yes as my career was winding down the more media work I did the more I enjoyed it to the point  it was giving me more enjoyment and satisfaction than one playing was doing towards the end.
@MonkeyTown62 Asked:
Which manager gave you the biggest "Hairdryer treatment"?
Danny:
If you see the list of the managers that I have played for I would say that 90% of them were capable of the hair dryer treatment and I would say they all gave me one at some point which was no bad thing.
And finally, tell us something about yourself that not many would expect?
Danny:
I have 3 metal screws in my femur from when I broke it as a kid.
We would like to thank Danny for taking the time out to answer our questions! You can follow Danny Higginbotham on twitter: @Higginbotham05